Madness Mahathir and Raja Petra the best racialist, doubles team ever!
 
My blood sugar is 5.2/5.4 and my blood pressure is 120/130 over 70/80, depending on what time of the day. I sleep at 10.00/10.30pm and wake up at 5.00/5.30am to start work. I work from the time I wake up till lunch time, then read in the afternoon and start work again 5.00pm to 7.00pm and then 9.00pm till I go to sleep.
Is that healthy enough for you? And I have been angry since the 1970s till now. But I am even more angrier now because the next election is upon us and the opposition is still wanking away and shiok sendiri.
RPK
PRIVATISATION IS THE LICENSE FOR ELITE MALAYS TO THE EAT the POOR MALAYS,
RPK SAYS
UNDILAH BARISAN NASIONAL. VOTE BARISAN NASIONAL. 
Vote Barisan Nasional. Undilah Barisan Nasional
When Pakatan Rakyat people leave the opposition and become independent YBs or join Barisan Nasional we call them frogs, turncoats, traitors, etc., and say that they have been bought by Umno off. But we welcome Barisan Nasional people who leave their party to join or support the opposition. They are not frogs, turncoats or traitors. They have not been bought off by Anwar Ibrahim. They are true patriots who left Barisan Nasional to support or join the opposition because they have seen the light. whack people like Tajuddin Ramli, Syed Mokhtar Al-Bukhary, Daim Zainuddin, Dr Mahathir's children, and whatnot. Granted these are Umno cronies. In fact, they are Umno nominees and we find out later that they are actually fronting for Umno. But why single them out for attack?
Why don't we also whack Barisan Nasional people who support or join the opposition and call them frogs, turncoats or traitors and say that they have been bought off by Anwar Ibrahim? This says a lot about the attitude of Pakatan Rakyat supporters."Do not underestimate the Malays. Not all Malays are stupid and cannot think. They may keep quiet and not rant and rave like those Chinese readers who post comments in Malaysia Today. But this does not mean the Malays are not capable of thinking and are not analysing what is going on."
that's why one needs to comment fairly. don't be a hypocrite. when someone takes a bribe, it's not because of his race. it's because he's corrupt. with every supporter you get with your racial undertone, there are more that reject it.
it's easier for the malays to support umno. yeah, they don't like the corrupt leaders, but at least the party itself is meant for "United Malays". if opposition wants to capture malays' support, show them how different you are. doing the same "bs" that umno is doing will not take you anywhere. well, why should give the opposition a chance to govern if the "bs" is going to be the same? in addition, the new regime may also bring new "bs" and new racial agenda?Protecting your own kind is in each and everyone one of us. Studies have shown that, when test subjects were presented with a series of pictures of someone suffering, the brain reacts more sympathetically to the ones whose race is the same as the test subjects. This experiment was done in first world, western countries, even they, supposedly civilized nations, still can't escape from racism. It's in all of us.
But I'll tell you one thing about the chinese though. They are practical and smart. They will eat anything given the chance, but they know how not to eat too much, and know how to wipe their mouths after eating. Perhaps the other races can learn a thing or two from the chinese Let's not forget the infamous TENGKU GOH, who is a TAIKO to the ex IGP Musa Hasan and AG Gani Patail
Even Vincent Tan and Jho Low knows how make profits off BN leaders and wives too
Dr Mahathir's slogan of "clean, efficient and trustworthy" was once exciting. But it turned out to be a joke of "corrupt, ineffective and non-trustworthy". Meanwhile, Abdullah's "work with me, not work for me" was once impressive, too. But it was halted because of UMNO's internal resistance.
THE OLD SLY OLD FOX IS ON PROWL AGAIN,
He is a pioneer of all corruptions and deceits. Where did he obtain all his millions I ask him? As a tongue twister he can say anything he wants. He could turn black into white and vice-versa. He could also turn a live monkey into a dead one. You see , he is like David Copperfield. He is that capable but come to serveing the nation he is always last. When come to serving the people he said the Malays were useless and lazy. When come to the Sultans he clipped their power because they were the pain in his neck,do you guys remember? He pocketed millions and perhaps billions of commission during his tenure. He was a damn bloody good saleman during his cabimet days…………Remember the Lingam case..Correct…correct..
Just ignore him…We are looking at the future not remembering a nightmare…A cold shoulder will teach the asinine a lesson he'll never forget…we don't want him any longer…Tun M appearance will make voters even more determined to ensure PKR win, for the voters know very well what Tun M stands for.If what Rahim Thamby Chik says about Mahathir being UMNO's secret weapon is true, then the Bukit Selambau by-election will not only be a referendum on Najib but also on Mahathir. Does Thamby Chik not know this secret weapon has been backfiring for some time now? But the thick-skinned Apa Nama Ni will also find excuses, blame others, even if UMNO loses.
Three days before he took the office, Prime Minister Datuk Seri Najib Tun Razak made a high profile visit to the country's leading Chinese-language paper Sin Chew Daily. He promised not to take any highhanded action against the media.
The first day after he has taken the office, Najib announced the release of 13 Internal Security Act (ISA) detainees, adding that the government will review the act. At the same time, the three-month ban on PAS' Harakah and PKR's Suara Keadilan has as well been lifted.
A day after becoming the Prime Minister, Najib paid a visit in mufti to places representing the three major races, Malay, Chinese and India, in Kuala Lumpur. His first stop was Petaling Street, the KL's Chinatown.
"He must be resolute and courageous in framing a more transparent, reasonable and fair policy."
No matter how he was criticised by the Opposition, Najib's actions have indeed made some kind of "shocking" effects. His every move is as well "breathtaking".A few days later, Najib will announce the line-up of his Cabinet – a smaller team that may again surprise the people.
This is the success of Najib's think-tank. It is said that the think-tank has framed a "hundred day's reform" plan for Najib.
"People First. Performance Now." The slogan has no doubt a good start for Najib's leadership. However, he does not have a long honeymoon period. He must show more his leadership characteristics and with more sincerity and goodwill, to regain the public's support which the party has lost in the 8 March general elections.
Compared to Tun Dr Mahathir Mohamad, Najib seems not strong enough; and while compared to Tun Abdullah Ahmad Badawi, Najib does not look soft enough either. He is now facing three by-elections, political chaos and challenging economic crisis. Would he really be able to turn the crisis into a turning point and create a new situation for Malaysia?
Dr Mahathir's slogan of "clean, efficient and trustworthy" was once exciting. But it turned out to be a joke of "corrupt, ineffective and non-trustworthy". Meanwhile, Abdullah's "work with me, not work for me" was once impressive, too. But it was halted because of UMNO's internal resistance.
If he does not wish to repeat the same mistakes, Najib must first dare to walk out from UMNO's ruling pattern of authority and privileges, get rid of the impediments of the party's internal vested interest group and conservative forces. He must be resolute and courageous in framing a more transparent, reasonable and fair policy. Only by this, he can truly reset the future rules and orders of Malaysia.
In short, the success or failure of the reform lies in the implementation of the "new policy", instead of beautiful slogans!
if I think that our media – TV, newspapers, magazines, blogs (like this one) – are becoming increasingly frivolous, and exhibiting a lamentable lack of what is called 'social responsibility'. Instead of reporting and commenting on serious issues – such as, say, farmers' suicides, gender discrimination, man-made climate change which threatens to wreak environmental havoc on the entire planet – the media focus more and more on what are referred to as Page 3 events and personalities:
So, are the media, by and large, guilty as charged? Are they indeed shortchanging serious issues and social responsibility in favour of Page 3 frippery and frivolity?
And my answer to that question is that – for the sake of democracy and a free society – I sincerely hope that they are. Because in a democracy and in a free society (the two aren't necessarily one and the same – ancient Athens was a democracy but not a free society, in that it condoned slavery) the media must represent and reflect the wishes and aspirations of the consuming public, the readers and the viewers who subscribe to and support the media.
In authoritarian or totalitarian societies – such as Malaysia China or Myanmar – media content is determined not by what the general public wants but by what the authorities feel that the general public should be force-fed. In short, in non-democratic societies, the media are conduits for official propaganda.
In free market democracies, on the other hand, which India is finally emerging as, the non-governmental media have to respond to consumer preference or perish. What this boils down to is that while government-funded Doordarshan and Akashvani can afford to churn out sarkari-sponsored propaganda, the private sector media – like all the other TV and radio channels, newspapers, magazines and blogs – have to compete with each other to satisfy the demands of consumers, to give consumers – the viewers and readers – what they want.
If any part of the media – a particular TV channel, newspaper, magazine or blog – fails to do this, fails to give consumers what they want, inexorable market forces will ensure the failure and eventual closure of that particular TV channel, newspaper or blog. Viewers and readers will simply switch to a competing TV channel, newspaper or blog which gives them what they want.
In a democracy, people get the government they deserve. Similarly, in free market media – as opposed to government-controlled propagandist media – consumers get the media they want.
So, is Indian media becoming all froth and no social responsibility? Yes, it probably is. And the reason for this is not far to seek. Look in the mirror and you'll see it.
The reason is you.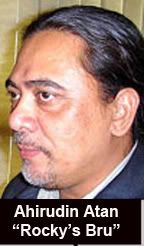 Ahiruddin Attan, owner of Rocky's Bru blog, appointed asEditor -in-Chief of Malay Mail in June 2009,andformer President of the National Press Club until 2007, as well asformer President of the National Bloggers Alliance, put up a spin on Zakhir Mohamed's allegations in his Rocky's Bru blog:
"…there's now talk about his opponent from PAS and a missing RM600,000 in election funds.The postCalon Pas N11 gelapkan RM60,000?belongs to pro-Umno blogger Zakhir Mohamad but the accusations against Mohd Salleh Man were made by his seniors in PAS, or so we're made to believe…"
GOOD BUDDIES-
THEY REINFORCE EACH OTHER, DON'T THEY?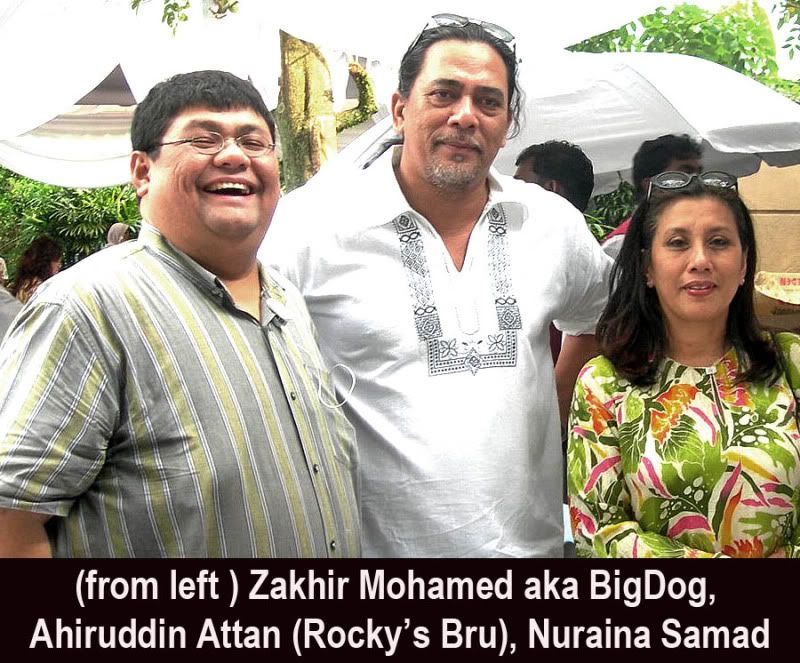 THE RISE OF THE PRO-MAHATHIR CAMP IN UMNO
In the Mainstream Media (NST Group)
after the Forced Resignation of former Prime Minister Tun Abdullah Badawi